Radflo 2.0 Emulsion Shock and 4 Springs Kit - 16 inch (SET OF TWO)
SKU
Radflo 2.0 Emulsion Shock and 4 Springs Kit - 16 inch
2.0" RADFLO COILOVER EMULSION SHOCK AND QA1 SPRING KIT


For those that require even more tuning capability, Radflo offers a full line of coil-over shocks to suit the most advanced suspension setups. Start by choosing the ideal spring specifications from their expansive selection of single or multiple-rate coil combinations. Then Radflo will independently set rebound and compression valving to complement your spring selection and vehicle specifications. Once installed, you can adjust ride height, preload and travel to suit your application and performance requirements. Integrated spring and shock performs better and requires less space. Make fast, easy and extremely precise coil spring adjustments without removing from vehicle.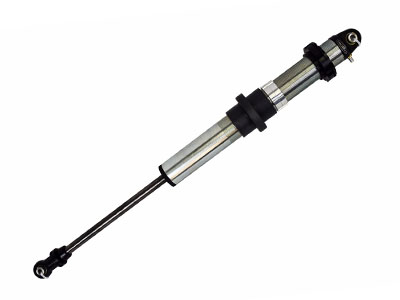 Standardized sizes ensure a broader range of high performance springs are readily available for your application. The compact design fits tight mounting locations where traditional coil springs would never work. Velocity sensitive valving automatically adjusts to terrain for improved control, handling and comfort. Radflo's exclusive Freeflo racing piston utilizes adaptive damping technology to automatically match shock performance to surface conditions. Multi-stage compression and rebound damping characteristics can be independently customized to suit your vehicle setup and driving preferences. Completely rebuildable, serviceable and tunable for virtually unlimited service life. Because all shocks wear out eventually, we designed every single component to be easily serviced or replaced. Even the individual valve shims can be changed to fine-tune damping performance. Radflo's highly experienced technicians can perform these services, or you can service the shocks yourself for immediate results. Exceptionally strong piston rod assembly designed for the harshest off-road racing conditions. Radflo's Nitro Steel® rod and slippery bronze rod guide provide unyielding performance in the roughest terrain. Multi-direction, triple lip sealing system prevents oil contamination while ensuring excellent gas and oil retention. Endurance inspired design provides consistent, fade-free performance and unmatched reliability. Radflo shock absorbers are engineered to outlast and outperform the competition. All components are manufactured from the highest quality materials and machined to exacting tolerances. The result is consistent and dependable performance race-after-race. Dual spring hardware included.
| | | | |
| --- | --- | --- | --- |
| Finish: | clear Cadmium plating | Product Type: | Coil-Over |
| Finish: | Mirrot polished | Bearing Size: | 1/2 |
| Shaft Size: | 7/8 | Rod: | Nitro Steel® |
| Mounting: | Universal Spherical Bearing and hardware | Body: | SSID alloy steel tube |
| Springs: | Dual spring hardware included. Springs sold separately. | Rod Guide: | CNC machined bronze |
| Oil: | Radflo high-temp foam resistant suspension fluid | Rod Guide: | PTFE coating |
| Valving: | consumer or factory tunable | Body Caps & Eyelets: | black anodizing |
| Valving: | Self-adjusting | Body Caps & Eyelets: | CNC machined 6061 aluminum |
| Valving: | velocity-sensitive deflective disc | Seal: | Combination Quad-Ring® and lip seal |
| Piston: | Radflo aluminum Freeflo racing piston | Seal: | rebuildable |
| Pressurization: | 200 psi | Coil-Over Hardware: | CNC machined aluminum with Nylatron® spring slider |
| Pressurization: | Nitrogen gas | Service: | Consumer or factory serviceable |
| Product Diameter: | 2 | | |
QA1's springs are strong, consistent and have a long life because they are made with the highest quality materials. A lifetime guarantee ensures that all QA1 springs will stay within 2% of the original free height and rate under normal operating conditions.
Chrome Silicon Steel (CrS)
All QA1 springs are manufactured using the highest quality materials for high strength, consistency and long life.
Cold Wound – Heat Treated – Shot Peened
All QA1 springs go through intensive manufacturing processes to ensure consistency, accuracy and durability.
Squared Ends
All QA1 springs are ground at both ends to ensure straight, consistent and accurate operation.
Protective Coated
QA1 springs are either silver powder coated for excellent longevity, or are polished and chrome plated for the ultimate in appearance.
Lengths and Rates Marked
All QA1 springs are clearly marked with the free length of the spring and spring rate for quick and easy identification.
LIFETIME GUARANTEE
All QA1 springs are lifetime guaranteed to remain within 2% of the original free height and rate under normal operating conditions.
Learn to Calculate Spring Rates:
More Information

| | |
| --- | --- |
| Product Name | Radflo 2.0 Emulsion Shock and 4 Springs Kit - 16 inch (SET OF TWO) |
| Brand | Radflo Suspension Technology |