Who We Are
Wide Open Design is an Off-road Superstore and Fab shop located in Murfreesboro, TN and specializes in parts and service for Off-Road Vehicles. Our staff has extensive knowledge in Trail Riding, Ultra4 racing, Rock Bouncing, and Rock Crawling. We can help you with the parts you need for your buggy or RZR. We carry parts and accessories from fabrication tabs and brackets and bolt-on accessories, to complete engines, electronics, suspensions, cages, and everything in between.
Our UTV selection is vast array of fabrication parts for all types of RZRs including XP 1000 and Turbo. We carry a ton of UTV accessories such as seats, door bags, harnesses and more. Our staff's extensive knowledge in UTV and RZR prooducts allows us to help customers.
Our top vendors include:
Winters Performance Shifters (Previously Art Carr)
QA1 Rod Ends, Radflo Shocks
Fox Shocks
Radflo Suspension Products
PRP Seats and Harnesses
Lazerstar LED Lightbars
Mast Motorsports Engines
Fragola Performance Hoses and Fittings
Crane Axle
RCV Performance
Yukon Gear & Axle
Warn Winch
PSC Steering
Griffin Radiators
Advanced Adapters transfer cases
Trail Gear
We ship parts anywhere in the world and provide the best expert advice in the business due to living Off-Roading every day.
Convenient, affordable, and spot-on advice sets our parts and service apart in the off-roading industry.
Products by WIDE OPEN DESIGN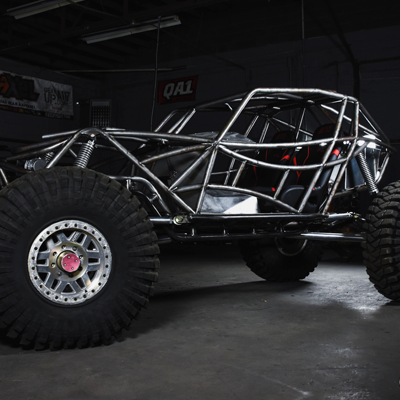 Chassis
Our Buggy Chassis' can be purchased as a bare frame, a rolling chassis, or a turn key buggy. We provide the highest quality, top performing, and afforadable chassis options available in the off-road market. As an experienced American company, we only use high quality USA steel and manufature every piece of our chassis at the highest precision available. Every Wide Open Design Chassis is designed in a 3D model and made to spec with some of the highest precision manufacturing tools available. They are tested rigorously before they leave our shop to meet our industry leading product standards.
Fab Parts
Wide Open Design manufactures a wide range of Fabrication parts and components. Each part is designed with precision and is made of top quality materials to satisfy any need of a customer's build or project. We also have built kits to simplify the purchasing process to make sure you get all the parts you need for your project at the lowest possibly cost.
Other Brands
Besides manufacturing our own products, we also carry a vast array of other brands products to make sure our store is the one stop shop needed for all of your off road needs! Top brands we carry are Winters Performance Shifters (Previously Art Carr), QA1 Rod Ends, Radflo Shocks, Fox Shocks, PRP Seats and Harnesses, Lazerstar LED Lightbars, Mast Motorsports Engines, Fragola Performance Hoses and Fittings, Crane Axle, RCV Performance, Yukon Gear & Axle, Warn Winch, PSC Steering, Griffin Radiators, Advanced Adapters transfer cases, Trail Gear and more.