Winters Shifter for Off Road applications
Does not Jam
Easy to Use
No Spring Loaded Levers
Includes Linkage Hardware and 5 ft. shifter cable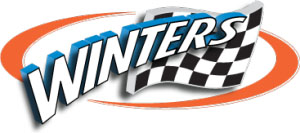 A responsiveness that puts you far out ahead of your competition... the sureness that snaps you into the gear you want, when you want it... the kind of ruggedness that lets you slam it into gear without the fear of jamming or springing the mechanism... that's the Sidewinder shifter for you! It's so well built, so finely engineered, so beautifully designed that you know at once... it has to be by Winters®. The Sidewinder is Fail-Safe! It's mechanically impossible to accidentally shift into reverse from any forward gear. A sturdy, steel guard bars the shifting rod from all other positions except first, second, or third. When you want reverse, only you can put it there. The Sidewinder can be installed on any street, strip or off road transmission. It is available in both conventional and reverse shift patterns.
The Winters Shifter is commonly used in the Rock Bouncer and Rock Crawling community because of the ease of use that comes with a Winters Shifter. It does not jam and has no spring loaded levers. The shifter is just an all around great additional to your Off Road Vehicle. You'll never go back to whatever it is you are using now if you try an Art Carr/Winters Sidewinder Shifter.
Winters Shifter for Off Road applications
Does not Jam
Easy to Use
No Spring Loaded Levers
Includes Linkage Hardware and 5 ft. shifter cable
The Wide Open Design Shifter Knob is an upgrade to the Winters Shifter. The WOD Knob is machined from Aluminum and then coated with high wear black coating. Features the WOD "W" Logo.
More Information

| | |
| --- | --- |
| Brand | Winters |
| Transmission | No |
| Gate Pattern | No |
| Mounting Options | No |