Designed with the hardcore-trail or rock bouncing racer in mind, the Rock Bouncer is made to satisfy the needs of someone looking to conquer the most extreme trails or obstacles.
The Rock Bouncer Chassis is 55" at it widest point
113" to 125" wheel base
Proper 4-link Geometry - accepts most popular axle configurations
Built with a mix of 1 3/4" x .188, 1 1/2" x .120, and 1 1/4" x .120 DOM Tubing
Typical Lead Time: 4 - 8 weeks
Check out Buggy Galleries that use this chassis:
Typical Lead Time: 4 - 8 weeks
Designed with the hardcore-trail or rock bouncing racer in mind, the Rock Bouncer is made to satisfy the needs of someone looking to conquer the most extreme trails or obstacles.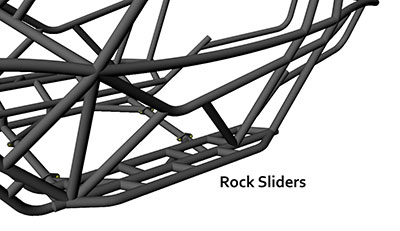 This chassis was designed with our experience of rigorous testing and designing vehicles that can pushed to their limits while being a reliable off-road platform. With many available options for the Rock Bouncer's components and configurations, this chassis platform is the ultimate foundation for a 4x4 vehicle.

The Rock Bouncer Chassis can be purchased as just a bare frame or with a few different options.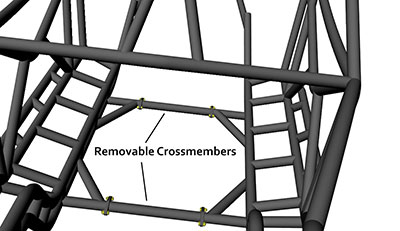 For a quote on chassis configuration, rolling chassis or turn-key vehicle please email sales@wideopendesign.com with your ideal specifications and we will get back to you promptly!

Why buy a Wide Open Design Chassis? We make it our highest priority to make our customers happy by providing the highest quality, top performing, and affordable chassis options available in the off-road market. You will get more for your dollar with our products than our competitors. As an experienced American company, we only use high quality USA steel and manufacture every piece of our chassis at the highest precision available. Every Wide Open Design Chassis is designed in a 3D model and made to spec with some of the highest precision manufacturing tools available. 

Not only do you get a high quality product, but we design each chassis platform for performance, function, safety, and reliability on the trail or on the track. From years of racing and building trail rigs, we build our products to perform.  We will not put our name on any of our products without knowing that they will deliver! 
Chassis is 55" at it widest point
113" to 125" wheel base
Proper 4-link Geometry - accepts most popular axle configurations
The main steel structures of the chassis are constructed from 1 3/4"x.120 wall DOM steel tubing
The lower bars of the chassis at the belly pan are made from 1 3/4"x.188 wall DOM steel tubing
Rocker bars are constructed from 1 3/4" x .188 wall DOM steel tubing
The support tubes are a mix of 1 1/2" & 1 1/4" x .120 wall DOM tubing
Optional mounts/tabs available!
Wide Open Design Rock Bouncer Chassis
NOTE: An additional shipping cost will be added after purchase due to freight calculations.
HD Option Comes Standard
Our Heavy Duty (HD) design places 1.75 x .188 wall tubing in the high impact areas where extra strength is needed.
What was once a cost option is now standard in all of our chassis. A chassis built entirely out of .120 wall tubing will keep occupants safe in a roll over, but leaves the chassis vulnerable to getting dented and bent. We are strengthening a few key impact areas so that the chassis has a better chance of remaining straight and is less likely to dent from sudden impacts. Going to an HD chassis only adds a minimum amount of weight but it's well worth it to have a chassis that will hold up for years to come.
For specific tubing sizes used to build this chassis and their location, reference these images: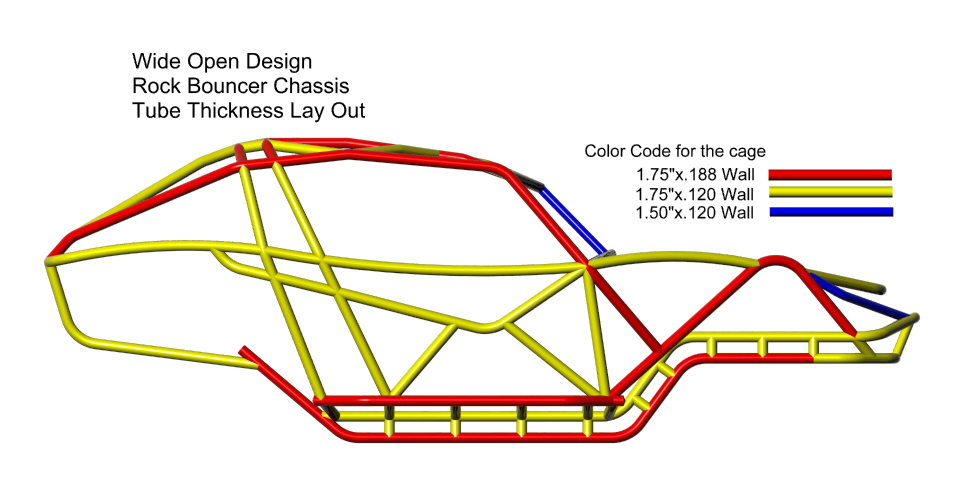 Check Out Buggy Galleries that use this Chassis:
More Information

| | |
| --- | --- |
| Brand | Wide Open Design |
We found other products you might like!