Revolution 2.0 Rock Crawler 4 Seat Chassis
Design blend that uniquely utilizes the rolled tubing look
The design of the Rock Crawler frame enables you to use modern or popular drivetrain options
Rock Crawler Chassis is 55" at it widest point
115" to 122" wheel base
Proper 4-link Geometry - accepts most popular axle configurations
Check out Rock Crawler Buggy Galleries using this chassis:
As soon as we released the Revolution 2 Seat Chassis there was a demand for a 4 seat version! We went back to the drawing board and quickly adapted the Revolution into a 4 seat model.

This design blend is uniquely utilizing the rolled tubing look that we pioneered and which helped put us on the map. This style has since become very popular in the off road industry and we are now making this affordable and refined chassis design available to the consumer.

The beauty of a production chassis from Wide Open Design is that you will have a chassis system formerly only available at a custom, one-off price. The new chassis system is built around tried and true power train, axles, electrical, and suspension configurations to ensure the immediate success of your new buggy.

Based on our first successful production chassis, the Revolution 2.0 was created with Wide Open Design's vast knowledge base and experience in hardcore trail riding and racing. The Revolution series was developed to provide a great platform for multiple uses. We engineered the frame so that suspension components would cohesively perform with the handling characteristics of our frame. Also, the design of this Revolution 2.0 frame enables you to use modern or popular drivetrain options. This is the ultimate buggy chassis!

The Revolution 2.0 chassis can be purchased as just a bare frame or with a few different options. All options are fully welded in place. Note: Does not include suspension components, axles, wheels, ect. Only the frame and selected available options. Full rolling chassis and turn-key vehicles are available.

For a quote on chassis configuration, rolling chassis or turn-key vehicle please email sales@wideopendesign.com with your ideal specifications and we will get back to you promptly!
Chassis is 55" at it widest point
112" to 118" wheel base
Proper 4-link Geometry - accepts most popular axle configurations
The main steel structures of the chassis are constructed from 1 3/4"x.120 wall DOM steel tubing
The lower bars of the chassis at the belly pan are made from 1 3/4"x.188 wall DOM steel tuning
Rocker bars are constructed from 1 3/4" x .250 wall DOM steel tubing
The support tubes are made from 1 1/4" x .120 wall DOM tubing
Optional mounts/tabs available!
2.0 Chassis Updates:
Sleeker look from a shorter roof design and a steeper, swept a-pillar
Removed the stinger and sway bar tube (can be added at customers request)
Shortened the rear end of the chassis to increase chassis performance and to allow more trail clearance
Narrowed the rocker width to 50" resulting in an improved structural design for tighter trails, greater rock clearance, and more aggressive looks
Added rocker guards for greater component protection
Redesigned the front and rear chassis points to have tube bends instead of pointy miter joints and tube nodes.
Thicker a-pillar tubing for increased stability and safety
HD Option Comes Standard
Our Heavy Duty (HD) design places 1.75 x .188 wall tubing in the high impact areas where extra strength is needed.
What was once a cost option is now standard in all of our chassis. A chassis built entirely out of .120 wall tubing will keep occupants safe in a roll over, but leaves the chassis vulnerable to getting dented and bent. We are strengthening a few key impact areas so that the chassis has a better chance of remaining straight and is less likely to dent from sudden impacts. Going to an HD chassis only adds a minimum amount of weight but it's well worth it to have a chassis that will hold up for years to come.
For specific tubing sizes used to build this chassis and their location, reference these images: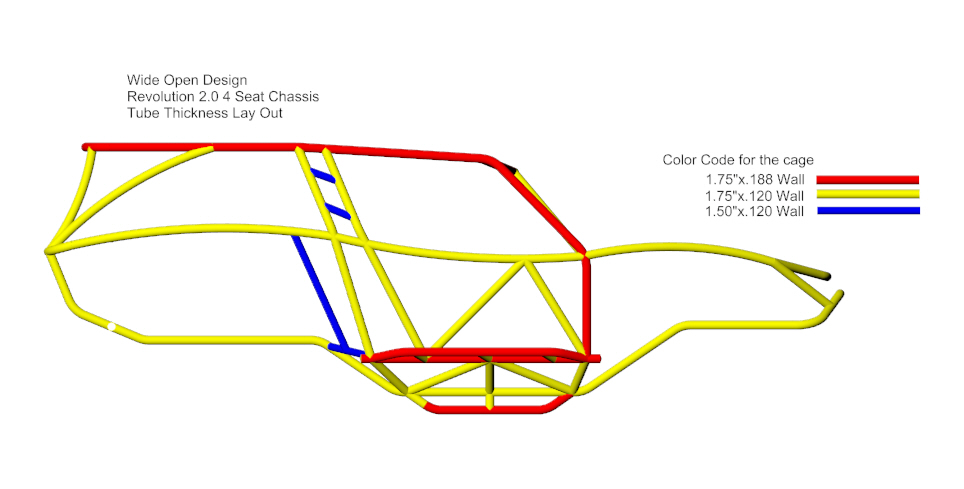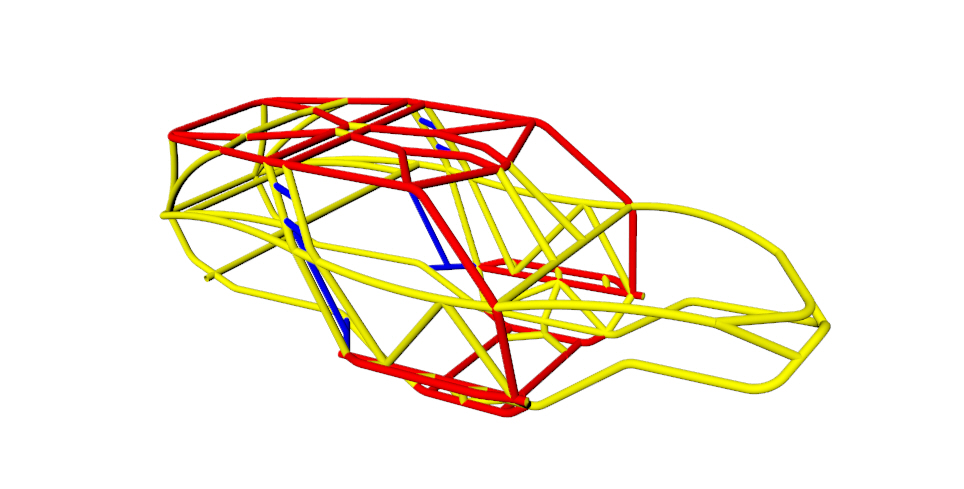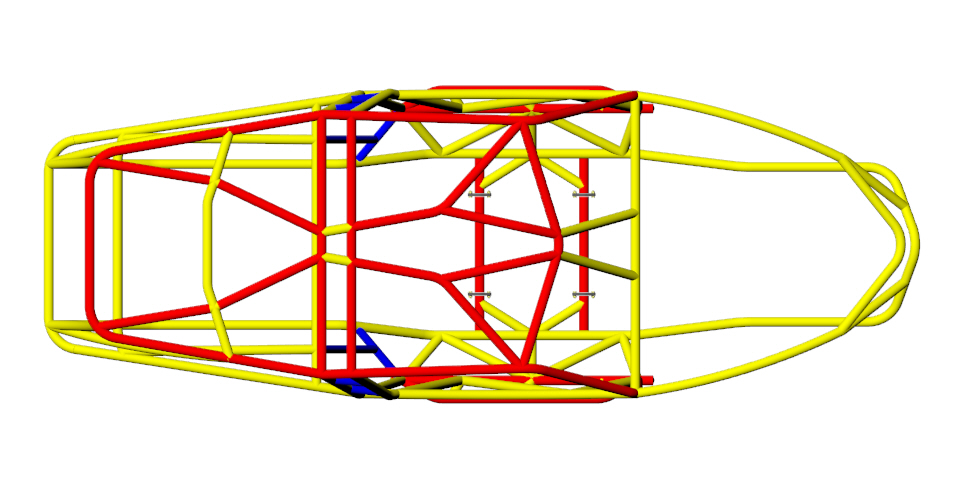 More Information

| | |
| --- | --- |
| Product Name | Revolution 2.0 Rock Crawler 4 Seat Chassis |
| Brand | Wide Open Design |
| Add Doors | No Doors |